5 min read
5 Best SEO Practices for SMEs in Canada 2022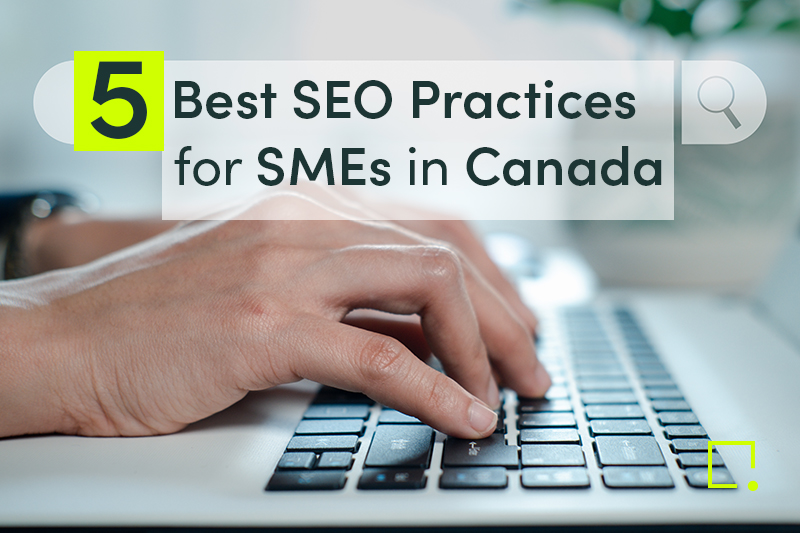 Visibility on search engines is vital. Use these SEO tips to improve your SME's website content and traffic quality.
If your business is online, you're likely already too familiar with the ultra-competitive atmosphere of search engines like Google.
Many companies operating online don't follow the best website optimization practices, putting them at a disadvantage against their optimized competitors. That's where Search Engine Optimization (SEO) comes in.
SEO is a process that website owners should follow to improve the quality of their organic traffic.
This article provides some of the best SEO practices for small businesses. You can implement these on your website to improve your rankings on search engines.
Following these steps can help increase organic traffic to your website and improve your chances of earning that highly coveted spot of first place on the Search Engine Results Page (SERP).
SEO Tips for Small and Medium-Sized Businesses in Canada
The world's most reputable search engine, Google, has around 5.6 billion daily searches. It's understandable that holding first place on the SERP is no easy feat for small business owners, especially with little to no advertising budget.
Still, you can take a few small steps to improve your business's SEO strategy. Below are some simple SEO tips for small businesses operating in Canada.
1. Conduct Keyword Research
A keyword is where the journey to your website starts. That's why it's essential for your website to accurately represent your business and the products or services it offers.
Conducting keyword research is the first step toward receiving more organic (meaning unpaid) traffic.
One common way of finding new keywords is using search engines to get a basic idea of the terms your potential customers are searching.
For example, Cubeler supports small to medium-sized enterprises (SMEs) with financial, advertising, market intelligence, and networking business tools.
While these are all keywords we include on our website, we typically choose one focus keyword for every page.
So, considering that Cubeler provides small business tools, we'll use that term as our focus keyword for our homepage. We'll then input the keyword into Google as an example to ideate keyword ideas.
Here's what we discovered: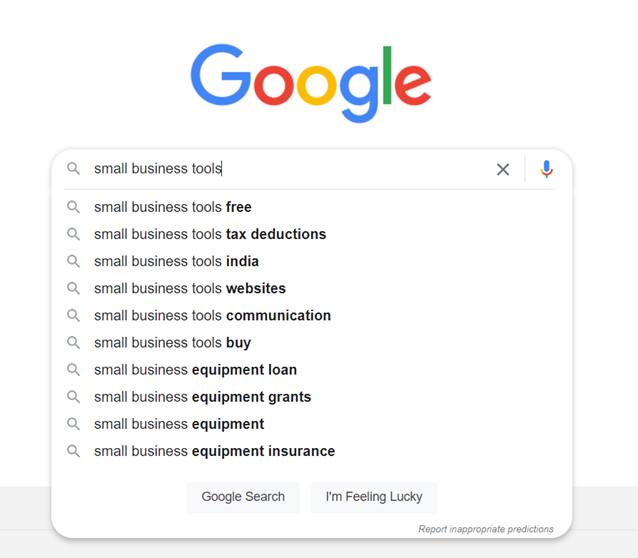 You can also search for the term and scroll to the bottom of the page, which will present more keyword ideas.

As you can see, Google has suggested a few handy terms related to our target keyword. Some of them apply to Cubeler, while others don't.
Our next step can be opening a spreadsheet and inputting the most relevant terms to our business. Doing this will help us keep track of our research.
Certain businesses can benefit from local SEO. For example, local businesses in a city can use a keyword like small business tools in "city". If you work with customers nationally, mention Canada. For example, small business tools in Canada.
Free and paid SEO tools such as SEMRush, UberSuggest, Keywords Everywhere, and AnswerThePublic can help diversify your keyword strategy immensely.
Google Analytics and Google Search Console are two remarkable tools that are also free to use. Both services grant immense insight into your visitors and how they came to your website. The software offers many other features as well.
Try and find all of the possible keywords and incorporate them into your content. If you don't include the keywords, people searching them won't find your website.
2. Create High-Quality Content Regularly
Writing copy or blogs can be difficult, but it's essential to any website's success. Both types of writing help make your website look legitimate to your customers and search engines.
Posting relevant blogs on a regular basis drives website traffic, generates backlinks, and lets search engines know that your website is active, among many other benefits.
When ideating content aims to create blog posts specific to your business. Additionally, every page on your website should follow some of these best practices, which include:
Using simple language without spelling or grammatical errors
Organizing your content with a focus on readability
Avoiding long sentences, bulky paragraphs, or stuffing keywords
Making content at least 700 words in length
Keeping the content intent relevant to the page topic
Because Cubeler provides tools that help SMEs grow, we publish articles that explore topics relevant to small and medium-sized businesses.
3. Optimize Title Tags, Meta Description, URL, and Image Alt-Text
If the SEO phrases in the title above seem daunting, don't worry. These terms are a lot simpler than meets the eye.
Every website, no matter the type, requires the following SEO elements on each and every page:
A Title Tag that tells search engines the title of the page. Title tags appear as the title on search engines. It's the text in the link that visitors click before being redirected to your website. The title tag should describe what the user can expect to find on the page they're about to click. Usually, title tags are about 55 to 70 characters long.
A Meta Description that tells search engines what the page is about. Meta descriptions are around 150 characters in length and briefly describe what content is on the page. You can find a website's meta description under the link on search engines.
A Page URL is the address of a page on a website. Every page has a link address. Generally, URLs should include the focus keyword of a page. Aim for a maximum of five keywords and separate each word by dashes. Include only necessary keywords. For example, the URL for this page is "best-SEO-practices-SMEs-Canada".
Headings organize content. Format each page title as a Heading 1. You should format sections below the title as Heading 2s and sections within the Heading 2s should be formatted as Heading 3s.
The Image Alt-Text tells search engines what an image contains. Typically, alt-text should provide a detailed but brief description of an image. In Ontario, the

Accessibility for Ontarians with Disabilities Act

(AODA) requires image alt-text and other SEO measures to serve customers who might experience barriers while accessing content.
If you are hosting your website through WordPress, SEO plug-ins like Yoast and Rank Math provide an SEO checklist that updates as you update your content.
4. Develop a Link Building Strategy
Link building is the management of internal linking and external linking.
Internal linking is the practice of implementing links within your website. Links that lead to other pages on your website are internal links.
When internal linking, ensure that the page the link leads to represents the anchor text. Anchor text is the text within a link.
External Linking is the process of receiving backlinks from other websites to your own website. There are several ways to implement a link-building strategy.
One of the most common ways to build links is organically by creating good content. By creating high-quality content, other content creators will link back to your page. Though timely, this process is the best way to link building.
Another external link-building method is through content partnerships. Content partnerships are guest posts for another website. The content you create links back to the pages you value most.
Your website would return the favour by publishing content from the partnership, with links going back to their website. You'll want to partner with high-quality websites that are somewhat relevant to your business.
Similar to internal linking, anchor text in external links should represent the website it leads customers to.
5. Use Social Media
Social media is a great tool that costs nothing to use on a monthly basis.
Facebook, LinkedIn, Twitter, Instagram, TikTok, Snapchat, and Pinterest are all excellent platforms with millions of users. You can use these tools to promote your business for free.
Using social media helps develop a presence on additional platforms that can drive traffic to your website. You should also add and link social media buttons that link out from your website to all of your social media profiles.
There is some SEO value for social media. Google and other search engines use metrics from Facebook and Twitter to analyze the popularity of a post as some of their search ranking factors.
Each time you publish a blog, you have the opportunity to drive more traffic to your website by sharing it on social media.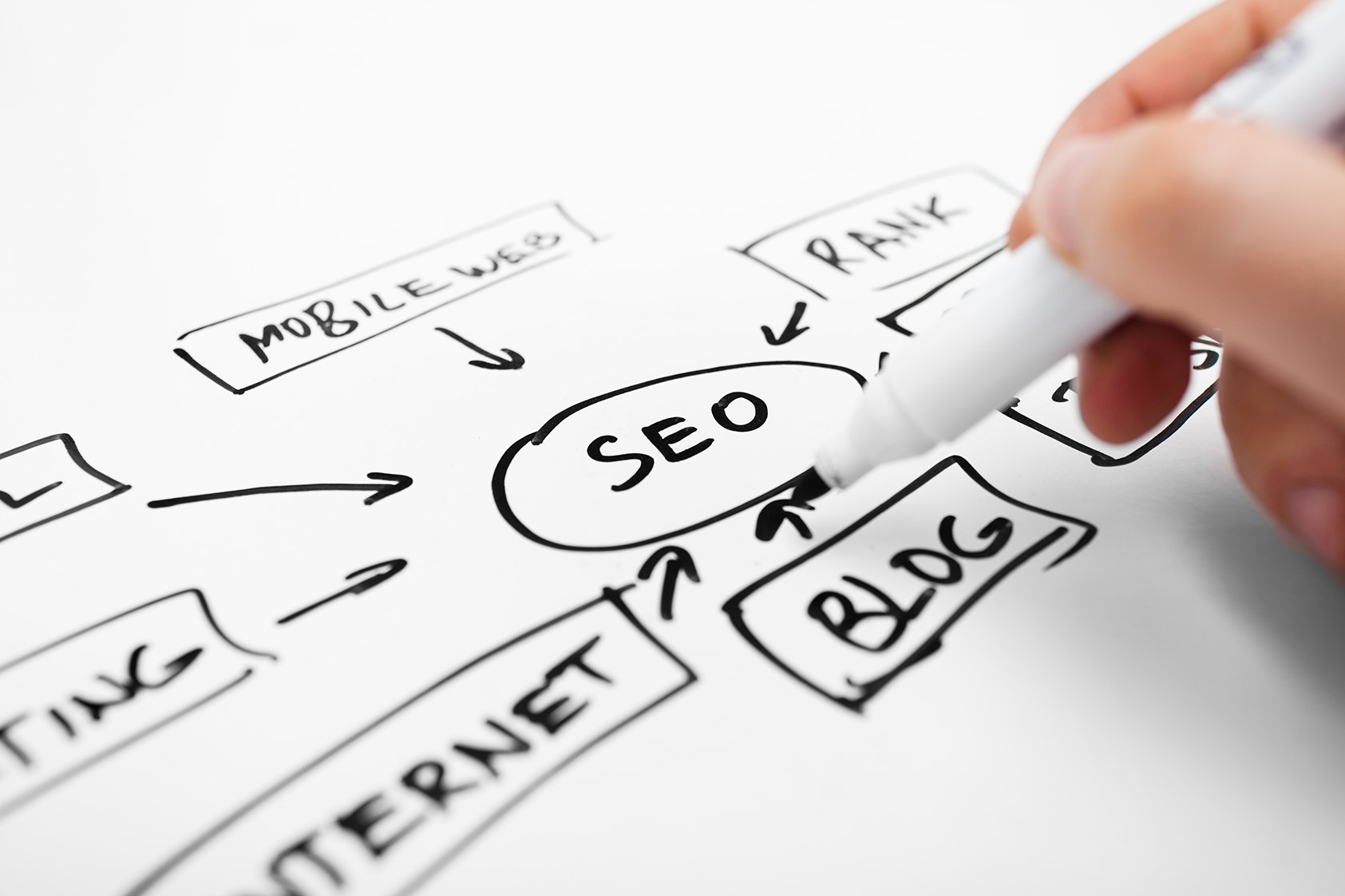 Our Final Thoughts: SEO Practices for SMEs
The most important thing to remember is that SEO is a long-term game. It will likely take time to see the results you want from search engines.
Still, by taking some of the small steps listed above, your SME's website can likely see improvements sooner than you might expect.
FAQs About SEO for Canadian SMEs
Is SEO important for SMEs?
Yes. SEO is important to SMEs or any other website.
Are SEO services worth it for businesses?
SEO services don't guarantee results. However, small improvements with the help of an SEO professional can certainly help increase traffic over the course of a few months.
When will I see SEO results for my SME?
You may see results in three to six months. This is not a guaranteed amount of time.
Visit our blog for more helpful SME information and resources or sign up for our newsletter to keep up on all the latest from Cubeler.
Pre-register and be amongst the first to access Cubeler business hub: Cubeler.com
Suggested/Related Articles